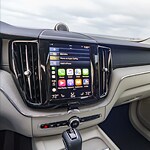 Are you familiar with the Volvo XC60 R-Design? It's a luxury performance SUV that's popular for many great reasons. It has an incredible list of features that make driving an enjoyable experience.
Sensus Navigation The XC60 R-Design trim has Sensus Navigation, which is a comprehensive system that offers voice control, provides travel guidance and can even give you different route alternatives while on the road. This is just the beginning of what you can expect from Sensus Navigation. It's an incredible feature that makes life a bit easier.
Special Mesh Grill The XC60 R-Design trim also has a special mesh grille that adds to the overall attractiveness of this luxury car. This grill is beautifully designed and has enhanced functionality.