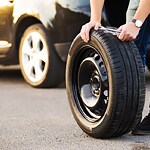 There is a good chance that your car has a functional spare tire in the trunk. In some cases, it will be a compact tire that is generally safe to drive on for about 50 miles at speeds up to 55 miles per hour. This is generally enough time to make your way to a service center like the one at CMA's Volvo Cars of Charlottesville.
However, you may have a tire that is the same size as those currently on your vehicle. In such a scenario, you can put the new tire on and drive your vehicle normally. Of course, it may still be a good idea to bring your car in for service.
It will also be a good idea to buy a new spare tire from our location in Charlottesville. Doing so will ensure that you're ready the next time that an air leak or blowout occurs.