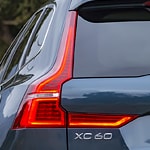 The all-new Volvo XC60 has been completely redesigned! It now features a sleek, modern exterior that is sure to turn heads. The XC60 was designed with safety in mind, and it includes a number of innovative features that will keep you safe on the road. We'll take a closer look at some of these features in this blog post.
The XC60 features LED headlights that provide better visibility in low-light conditions. Volvo's engineers have also designed the XC60 to be highly aerodynamic, which reduces drag and improves fuel efficiency. The XC60 is available with a choice of two different engines: a turbocharged four-cylinder or a supercharged and turbocharged six-cylinder. Both engines are paired with an eight-speed automatic transmission.
Volvo's all-new XC60 is a safe, stylish, and efficient SUV that is sure to turn heads on the road. If you're looking for a vehicle that can take your family on adventures in style, the XC60 is the perfect choice.