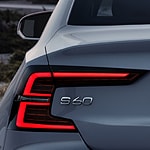 The Volvo S60 is a popular car for a variety of reasons. It's stylish, efficient, and packed with interior features that make it stand out from the competition.
One of the first things you'll notice about the Volvo S60's interior is its spaciousness. The cabin is designed to be comfortable for all passengers, with plenty of legroom and headroom. The heated seats are also very comfortable, with a variety of adjustment options to ensure that you're always in a good position.
The Volvo S60 also comes with a variety of standard and optional features that can make your drive more enjoyable. The standard sound system is excellent, and the available built-in navigation system is one of the best in its class that can help you get around town or even plan long road trips. You can also add features like automatic climate control, and a sunroof to make your car even more comfortable. The car has an infotainment system that includes a touchscreen display, Bluetooth connectivity, and access to a variety of apps.