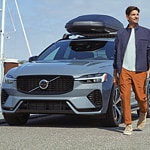 Volvo has always been a brand that emphasizes safety and performance, and its new XC60 is no exception. This SUV is sure to turn heads with its sleek design and impressive performance specs. Here are just a few of the features you can expect from the 2022 Volvo XC60:
- Turbo-charged four-cylinder engine: This engine offers an impressive amount of power and torque, making it perfect for those who want a sporty driving experience.
- All-wheel drive: This feature is perfect for those who live in areas with inclement weather.